| | |
| --- | --- |
| | |
HKETO kicks off 15th anniversary celebrations in Singapore with Wine and Dine event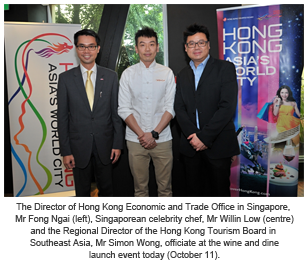 The Hong Kong Festival 2012 in Singapore was kicked off with the Wine and Dine launch event held today (October 11).
Organised by the Hong Kong Economic and Trade Office (HKETO) in Singapore with its partners, the Hong Kong Festival 2012 celebrates the 15th anniversary of the establishment of the Hong Kong Special Administrative Region. The Secretary for Commerce and Economic Development, Mr Gregory So, is the guest of honour, and will visit Singapore to officiate at two of the events to follow.
The launch event featured a Hong Kong-inspired menu created by a Singaporean celebrity chef, Mr Willin Low, who visited Hong Kong this September.
Speaking at the launch event, the Director of the HKETO in Singapore, Mr Fong Ngai, said, "Through a series of events ranging from food, drama, music, a business forum and festive sports, the Hong Kong Festival 2012 aims to showcase Hong Kong's vibrancy and its diverse arts and culture, as well as its status as a premier business destination."
Mr Fong said the idea of a Wine and Dine event was floated naturally when the line-up of the Festival was discussed, given Hong Kong's status as a food lovers' heaven and Singaporeans' love for food.
"Not only does Hong Kong excel in terms of the quantity of restaurants and other food outlets, we also pride ourselves for quality and variety when it comes to food," he said, adding that Hong Kong is also a heaven for wine, especially after the waiving of wine duties since 2008.
The Wine and Dine event is organised in partnership with the Hong Kong Tourism Board as a prelude to the Wine and Dine Month in Hong Kong in November.
Events of the month-long Hong Kong Festival 2012, which will follow in the coming weeks, include a theatrical performance, "The Spirits Play", by two renowned Asian directors, Danny Yung (Hong Kong) and Makoto Sato (Japan), presented by Singapore's Theatre Practice; a Gala Dinner staging a preview of performances from the Hong Kong Arts Festival 2013; a business forum on global and regional supply chains with a focus on the complementary roles of Hong Kong and Singapore; and a dragon boat race with winning teams from Hong Kong and Singapore competing for the Hong Kong Cup 2012.
Ends/Thursday, October 11, 2012